Welcome to The Crest at Brier Creek
ABOUT
Come home to luxury living in Raleigh with The Crest at Brier Creek! Our 1, 2, and 3 bedroom apartments feature 9-foot ceilings, European-style cabinetry, and a kitchen island for entertaining. Designed with the community in mind, our neighborhood houses a resort-style pool, an outdoor area with grills and a fireplace, and a Cafe Lounge with a coffee bar and billiards table. Located near I-540 and US-70, your commute will be easier than ever and with close access to the Raleigh-Durham International airport, adventures both close to home and abroad are only a short drive away. You'll be just a few minutes away from shopping, entertainment, and some of the best restaurants Raleigh has to offer. Try local favorites like Angus Barn, Lonerider Brewing Company, and The Pickled Onion Restaurant and Bar. Conveniently placed on the Northwest side of Raleigh, spend weekends exploring the lush natural world at William B. Umstead State Park or the Falls Lake State Recreation Area. Find out what it's like to experience better living from the comfort of our thriving community. Contact The Crest at Brier Creek today!
Address
6450 Viewpoint Circle
Raleigh, North Carolina
27617
Office Hours
Monday - Friday: 09:00 AM - 06:00 PM
Saturday: 10:00 AM - 05:00 PM
Sunday: Closed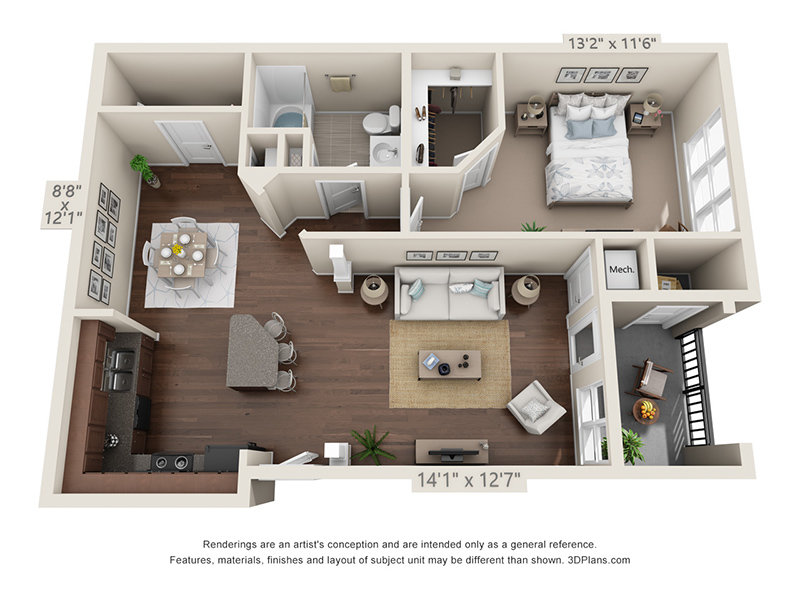 1x1-866
SQ FEET: 866
BEDROOMS: 1
BATHROOMS: 1
DEPOSIT: 350
PRICE: $1329
AVAILABLE: 2
WEB SPECIAL:

JANUARY RENT FREE FOR MOVE-IN BY 12/15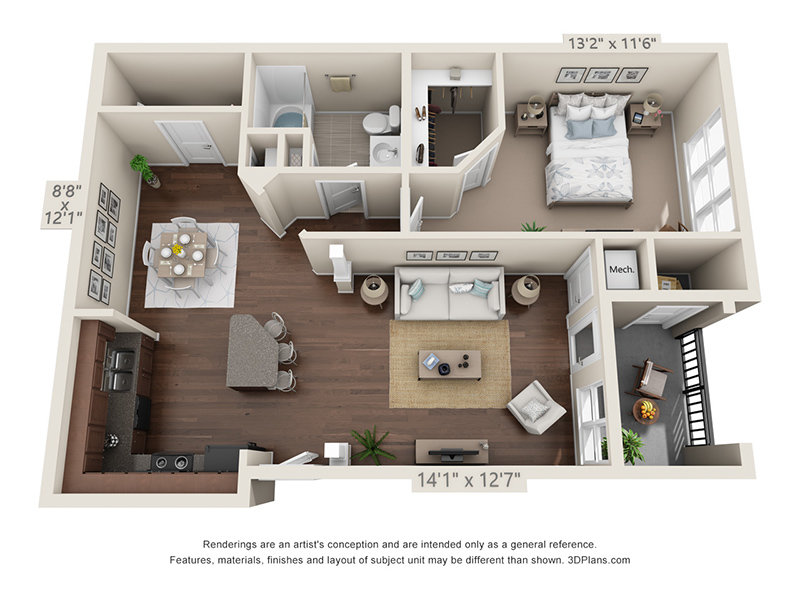 1x1-866 Full Renovation
SQ FEET: 866
BEDROOMS: 1
BATHROOMS: 1
DEPOSIT: 350
PRICE: $1556
AVAILABLE: 1
WEB SPECIAL:

JANUARY RENT FREE FOR MOVE-IN BY 12/15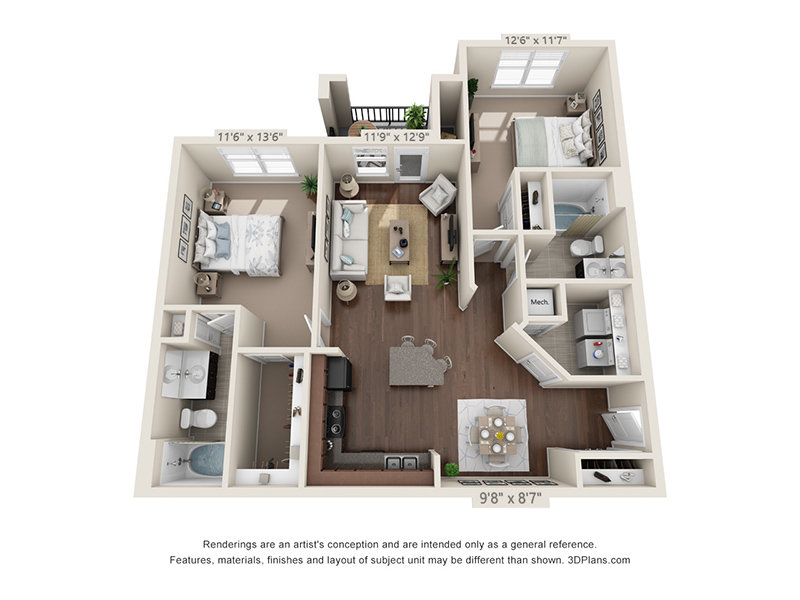 2x2-1130
SQ FEET: 1130
BEDROOMS: 2
BATHROOMS: 2
DEPOSIT: 350
PRICE: $1499
AVAILABLE: 1
WEB SPECIAL:

JANUARY RENT FREE FOR MOVE-IN BY 12/15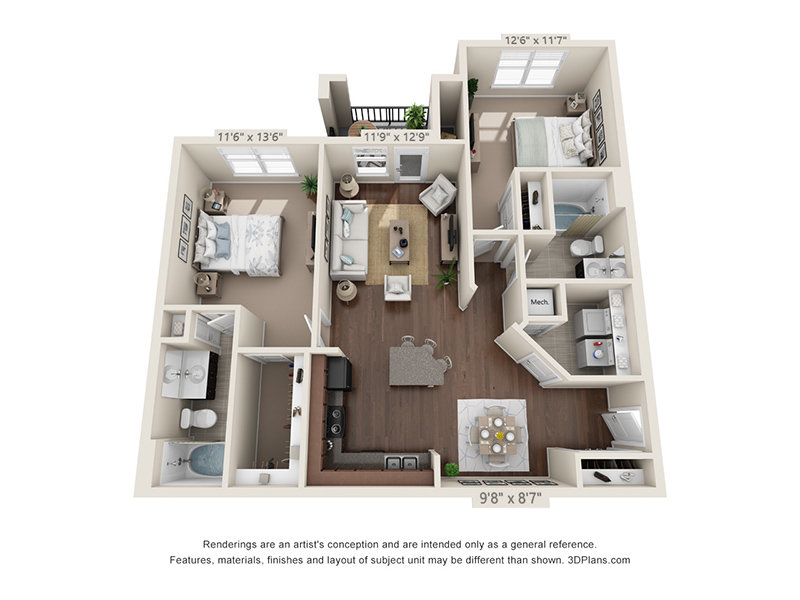 2x2-1130-Premium Renovation
SQ FEET: 1130
BEDROOMS: 2
BATHROOMS: 2
DEPOSIT: 500
PRICE: $1649
AVAILABLE: 2
WEB SPECIAL:

JANUARY RENT FREE FOR MOVE-IN BY 12/15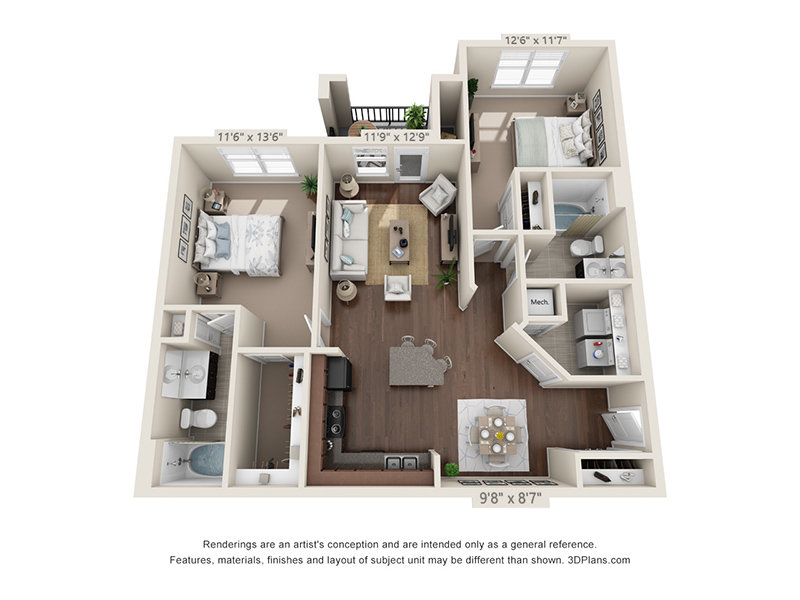 2x2-1130 Full Renovation
SQ FEET: 1130
BEDROOMS: 2
BATHROOMS: 2
DEPOSIT: 350
PRICE: $1824
AVAILABLE: 2
WEB SPECIAL:

JANUARY RENT FREE FOR MOVE-IN BY 12/15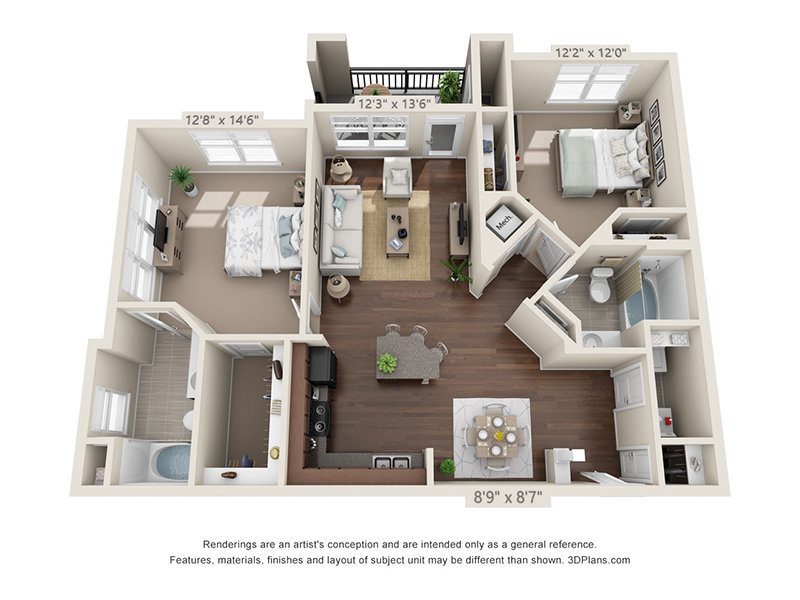 2x2-1160
SQ FEET: 1160
BEDROOMS: 2
BATHROOMS: 2
DEPOSIT: 350
PRICE: $1590
AVAILABLE: 2
WEB SPECIAL:

JANUARY RENT FREE FOR MOVE-IN BY 12/15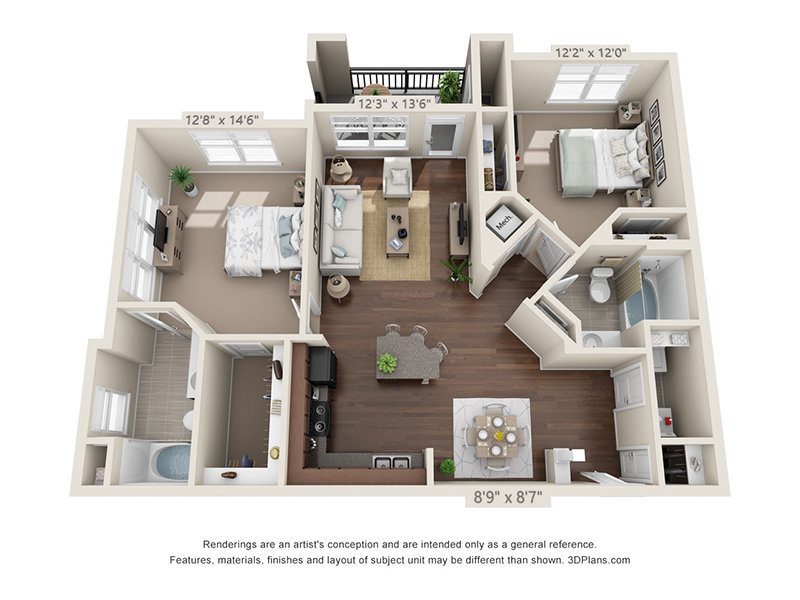 2x2-1160 Full Renovation
SQ FEET: 1160
BEDROOMS: 2
BATHROOMS: 2
DEPOSIT: 350
PRICE: $1639
AVAILABLE: 2
WEB SPECIAL:

JANUARY RENT FREE FOR MOVE-IN BY 12/15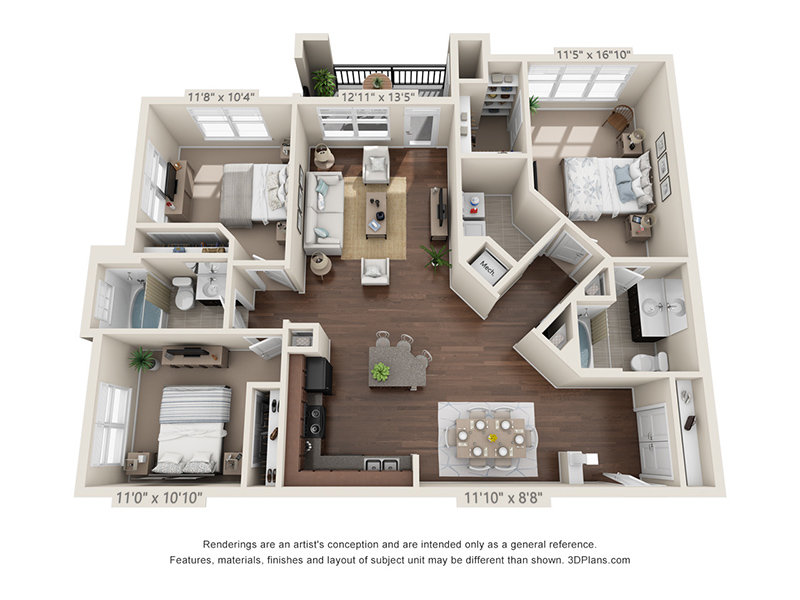 3x2-1410
SQ FEET: 1410
BEDROOMS: 3
BATHROOMS: 2
DEPOSIT: 350
PRICE: Contact Us for More Details
WEB SPECIAL: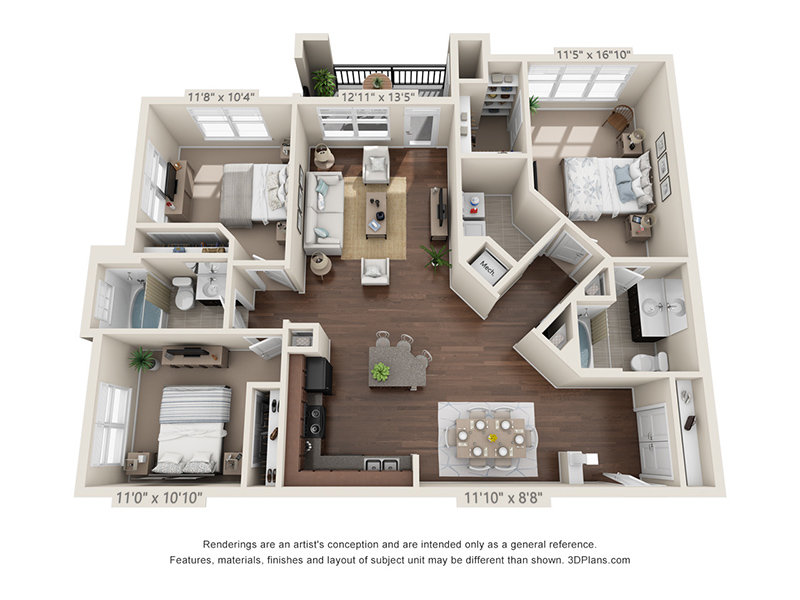 3x2-1410 Full Renovation
SQ FEET: 1410
BEDROOMS: 3
BATHROOMS: 2
DEPOSIT: 350
PRICE: $2024
AVAILABLE: 2
WEB SPECIAL:

JANUARY RENT FREE FOR MOVE-IN BY 12/15
Apartment
9-Foot Ceilings
Ample Storage
Designer Wood-Style Plank Flooring*
EnergyStar® Appliances including Microwave, Washer & Dryer
Entertaining Island in Kitchen with Bar Top
European-Style Cabinetry with Brushed Nickel Hardware
Tiled Kitchen Backsplashes and Tub Surrounds
Upgraded Stylish Pendent and Recessed Lighting Fixtures
Property
Cabanas with Privacy Curtains and Lounge Furniture
Cafe Lounge with Coffee Bar, Billiards Table, and Shuffleboard
Resort Inspired Pool with Large Deck Surrounded by Lush Gardens
Outdoor Living Space with Gas Grills and Fireplace
Fully-Equipped 24 Hour Fitness Center
Valet Trash Service
Pet-Friendly Community including Dog Park
Easy Access to I-40, I-540 and US-70
Resident Social Events
On-Site Professional Maintenance
On-Site Professional Management
Resident Package Receiving
Khymani Rogers
Stars: 5
I am GREATFUL for Brittany ! I came to her because a package of mine was delivered wasn't in the parcel locker but when I went to check my mail there was a postal key. We did not know where it came from at first or what it belonged to but all along it was the key to get my package out from the lockers and she did just that . Thank you !
Nov 29, 2023
Tahirah Hargrove
Stars: 5
My experience with the crest has been A1 so far, I had the pleasure of working with Brittany and she was AMAZING! Super friendly, helpful and knowledgeable about the property.10/10 I would highly recommend!
Nov 20, 2023
C Rod
Stars: 5
This review is for Brittany because she's amazing. She's always so positive and keeps that beautiful smile showing. Big thanks to her and the office staff for always being willing to help! You guys rock.
Nov 11, 2023
mimi djokouri
Stars: 5
If you are looking to move somewhere nice, and located next to shopping centers and great schools, The Crest is the place! Look for Brittany in the office, because of her excellent, warm, and knowledgeable personality, I hurried up and put in an application!
Nov 03, 2023
Xavier De jesus
Stars: 5
By far one of the best & most hospitable leasing offices I've encountered. From Management down to their Leasing Agents. Brittany was absolutely astonishing throughout my whole move-in process. They were responsive, patient with me and very helpful when it came to finding the exact type of apartment I needed. Very much so recommendable!
Nov 02, 2023
Christopher Hill
Stars: 5
I just moved here recently from another state! I appreciate the space and the price, very nice spot! Everything that I found wrong was fixed in a timely manner thanks to Brittany and the rest of the staff! S/o to Brittany M for the great customer service !
Oct 26, 2023
Unequa Walker
Stars: 5
I enjoyed my move in process with Brittany! She has an amazing personality, she also made me feel very welcomed !
Oct 13, 2023
Van Mclean
Stars: 5
One of the best leasing agents I have ever had Brittney Magnum. My experience with Brittney was phenomenal she is very organized and quick to respond when need be the application process was a breeze and she was in contact shortly after she's cares about the lifestyle of her tenants and makes sure their needs are first! I would recommend anyone that is looking at the crest at brief creek locate Brittney and the rest will be history!
Oct 12, 2023
hey abby
Stars: 5
Great staff! They take the time to listen to you and help you out. Also, the office is always clean and stocked up with good drinks.
Oct 12, 2023
x3chanyx3
Stars: 5
This has been by far the best management The Crest has had. Mikhaela has been able to help and address any issues we've had in the past. In her few months here she has done so much for this complex. The office constantly sends out any updates or important information that residents may need. They even have cute events in the office in appreciations for their residents. We've never really had those before so it's nice to see them do these things for the community. I also enjoy following them on IG for all the local recommendations they may have. Brittany has also been super helpful and informative. All in all this current management has been doing an amazing job for the complex and the community. You are greatly appreciated.
Oct 11, 2023
Jamal Bry
Stars: 5
Didn't get approved, but for anyone who has the rental qualifications, I highly recommend this place. It was beautiful, updated and the staff made me feel right at home. Brittney in particular went above and beyond for me! You don't get good customer service like that anymore!
Oct 11, 2023
Angela Rob
Stars: 5
Mikhaela and Brittany are such wonderful people, always a smile on their faces, as a vendor we deal with so many personalities, I truly enjoy my time here. Glad to see Fred is here now as well.
Oct 10, 2023
daniel jones
Stars: 5
Havent been a fan of past management with a few exceptions. The maintenance guys here, especially ZACH, JACOB, and the even the newer guy Tyrell, have been fantastic. These guys do more than what maintenance guys normally do. I've lived in apartments all the way from the mountains to the coast of North Carolina and these guys are great. Zach always communicates well and leads these guys with exceptional professionalism. I dont know how much they get paid but I hope they are taken care of. I've heard good things from neighbors, especially the "older aged" residents that have lived here a while and it is a general unanimous agreement that this is the case regarding professionalism as well as personalities.
Aug 30, 2023
Stephanie
Stars: 5
This property is beautiful! The staff is absolutely amazing! I had the pleasure of meeting Brittany today & she was so professional, provided great advice and her customer service was top tier! So happy to have her here and we can't wait to attend her events! Also spoke with Tyrell today and he did my service request within minutes! If you're looking for a new home, you should come here! 10/10 !
Aug 20, 2023
Joana Miles
Stars: 5
Mom of new tenant from Miami. I had an issue this morning with a blind. I was greeted by Britney with a smile and resolved my issue. I loved everything about her she is a great asset to have working here. Britney was kind, helpful and made me feel extremely welcomed to be renting here. As soon as I went back to the apartment Tyrone from maintenance was already pulling up. He was also kind and welcoming. I have never experienced service like this anywhere except DISNEY WORLD. Very impressed.
Aug 19, 2023
Taiquan Ross
Stars: 5
The Crest at Brier Creek has by far the BEST customer Service there is. I have lived in 4 different apartments in North Carolina and So far this apartment complex has WOWED me the most! The Assistant Property Manager, Kimberly Finley is absolutely wonderful. Throughout the process of me applying she was very understanding of my time and most of all very open to working with me to make sure me and my son found the best possible apartment at this location. If I could give another star I would. I highly recommend these beautiful apartments to anyone considering them.
Jul 31, 2023
Adrian Sanchez
Stars: 5
I recently started the process/completed the process to move to The Crest in Brier Creek. Kimberly did an amazing job at making this process simple and easy for me, and was awesome to deal with. Overall a great experience.
Jan 26, 2023
Inez Williams
Stars: 5
Love it. Too expensive as well as all living/ apartments in the Triangle area.
Dec 17, 2022
Timmy Wang
Stars: 5
If you aren't a wuss or complaining to management about useless things this place is amazing. Also super walkable to a huge shopping square. Crest 4 life
Dec 11, 2022
Amy Lloyd
Stars: 5
Welcoming, homey, and a place to feel safe are a select few ways to describe my residence at The Crest at Brier Creek. I have lived here 5 plus years and the current staff have exceeded their expected services with courtesy, professionalism, and most importantly- care. Martinque, Kiara, Kimberli, and Zach provide exquisite attention to everyone who lives here. When I have needed assistance my request has been met with respect and in a timely manor. The staff here goes above and beyond for their tenants: During a tumultuous year I felt completely heard and helped by this wonderful staff. That to me was the great marker. You can live anywhere, but at the Crest the service is thoughtful, professional, and true.
Dec 01, 2022
Sherri Mcglynn
Stars: 5
Zack and Jacob have been the best maintenance team since living here. They are fast at responding to any maintenance issues and very friendly to everyone.
Nov 17, 2022
John Mc
Stars: 5
Current management, office staff, and maintenance team is the best I've seen at this location in my 3 years living there. They are attentive, responsive, professional, and understanding in all situations.
Nov 15, 2022
Adonna Rowland
Stars: 5
Zack & Jacob are very good at promptly completing maintenance request and always communicate any difficulties they face is completion of request is delayed. They dedication to the community is valued!
Nov 10, 2022
Angel Fernandez
Stars: 5
Kiara Acosta was AMAZING to work with, she's SUPER informative, makes you feel at home the minute you walk through those doors, offered me water and snacks, and she's very knowledgeable as well. I definitely wouldn't want to work with anyone else but her. All of my questions were answered and made sure all of my concerns were addressed
Nov 03, 2022
Astolfo Segundo
Stars: 5
(Translated by Google) Very nice urbanization.. (Original) Muy bonita urbanización..
Sep 02, 2022
Stacy Jasso
Stars: 5
We enjoy living here. We are very close to a lot of stores. Nice area to walk around. Maintenance has been great! Jacob and Zack are quick and efficient! We call them, they show up :) #1206
Jul 19, 2022
Noelle Slusser
Stars: 5
I just moved into The Crest on June 14, 2022. The apartment is simply gorgeous! It is so spacious and offers so much more privacy than my last residence. The rooms have vaulted ceilings and the kitchen is huge with so much storage space, not to mention a storage unit out on the balcony. I had a few issues when I first moved in with minor repairs. Their team was on it right away. Zach seems to be the lead guy but all of maintenance is wonderful. They even repaired and tuned up a few items for me that weren't on my list. The pool is gorgeous and of course I love a free coffee in the morning. I feel like I'm living in a townhome and it is wonderful!
Jul 13, 2022
Shantel smith
Stars: 5
The management team and staff are always pleasant and helpful! This is a great environment to live in!
Jun 28, 2022
Tone Tone
Stars: 4
Met a woman who lives out there..hit her in her car because her kids and mom were in her apartment....
Jun 23, 2022
Chquinquira Aguero
Stars: 5
Excelente atención por parte de la señorita Kiara Acosta. Apreciamos mucho su atención y paciencia
Jun 09, 2022
Chquinquira Aguero
Stars: 5
(Translated by Google) Excellent attention from Miss Kiara Acosta. We highly appreciate your attention and patience. (Original) Excelente atención por parte de la señorita Kiara Acosta. Apreciamos mucho su atención y paciencia
Jun 09, 2022
Chquinquira Aguero
Stars: 5
(Translated by Google) Excellent attention from Miss Kiara Acosta. We greatly appreciate your attention and patience. (Original) Excelente atención por parte de la señorita Kiara Acosta. Apreciamos mucho su atención y paciencia
Jun 09, 2022
Don Hall
Stars: 5
I'm a new resident at The Crest at Brier Creek and Shelby provided a very pleasant and professional service as she worked with me to select an apartment and complete the leasing process quickly. I had a few minor issues (garbage disposal was not working, and the refrigerator light was burnt out) that I missed on my initial inspection of the apartment and wanted addressed after I moved in. I submitted maintenance requests about 11:00 AM using their online request form and they were addressed the same day. I couldn't be happier with the service provided by their maintenance team! I've only been here a few days but so far, the neighbors seem to be nice, and the neighborhood is quiet which is important to me as a remote worker that works from home. I highly recommend The Crest at Brier Creek to anyone looking for a reasonably priced apartment in this area.
May 25, 2022
Carolyn Flood
Stars: 5
This review is for the two amazing, polite, and completely informative guys Jacob and Zack on making the efforts in restoring my unit 6104 back to it's comfortable cooling state. Both your men were very delightful to talk with and I give them a 5 out 5 rating.... way To go Jacob and Zack!
May 23, 2022
Carmen V
Stars: 5
Apr 15, 2022
Juliana Orozco
Stars: 5
Apr 15, 2022
Ravon Vazquez
Stars: 5
I've been here almost 6 years and love it. The apartments are beautiful and very spacious. Definitely come check these apartments out.
Apr 05, 2022
Tamera Baskett
Stars: 5
Put in a maintenance request and Mr.Phillip showed up the next day and completed all our request. He made sure we were satisfied with the quality of work and was very friendly. We will definitely request Mr.Phillip for any future maintenance request.
Mar 14, 2022
Tiffany Seymore
Stars: 4
Mar 07, 2022
Kara Revis
Stars: 5
Sarah was very helpful during a stressful time with getting onto the new system. She was very patient and genuine and walked me through the whole thing. Very lucky to have her here
Dec 04, 2021
Nyemah Jacquel
Stars: 4
Apr 29, 2021
Bridgett Mclean
Stars: 5
Dec 11, 2020
James steyn
Stars: 5
Wonderful place to stay. Couldn't be happier with my choice. The maintenance staff is very prompt when I called about my thermostat.
Dec 10, 2020
courtney sheats
Stars: 5
Dec 10, 2020
Jordan Sheats
Stars: 5
Dec 10, 2020
Norma Jean
Stars: 5
Great location, very close to shopping, staff is amazing!!!!!
Dec 10, 2020
Alexia Carnal
Stars: 5
Great!!!! I have no complaints 😊
Dec 09, 2020
Jetway Cleaning Solutions LLC
Stars: 5
You can tell the staff there care about the property it is very well kept. The staff is very friendly and welcoming.
Dec 09, 2020
James
Stars: 5
Dec 09, 2020
Ravyn Woods
Stars: 5
Dec 09, 2020
Steven Harrison
Stars: 5
Dec 09, 2020
Betsy Jarvis
Stars: 5
Dec 09, 2020
Lisa Jones
Stars: 5
Dec 09, 2020
Venus Ferguson
Stars: 5
Dec 09, 2020
Shaun Hamilton
Stars: 5
The staff is always genuine and nice and truly care for the residents in their homes. The maintenance staff is very friendly do wonderful job when repairs are needed. Yhe entire staff at Crest respect and follow all the guidelines regarding Covid protocol. I love the landscape at Crest as well. It makes for an inviting atmosphere! 10/10 would recommend to anyone looking for a wonderful place to call home.
Dec 09, 2020
Sixty Hertz
Stars: 5
The Crest at Brier Creek is a great place to live and the staff is very friendly! Highly recommend!
Dec 09, 2020
Kris G
Stars: 5
Dec 08, 2020
Katelyn Curry
Stars: 5
Great place to live! Maintenance staff is extremely helpful! Would definitely recommend
Dec 07, 2020
Heather Lewis
Stars: 5
Love living here and very friendly staff and maintenance!
Dec 07, 2020
Donna Feldberg
Stars: 5
Dec 04, 2020
Ryan Fountain
Stars: 5
Great management team and beautiful property!
Dec 04, 2020
karina guerna
Stars: 5
So far, my experience has been great. I had two maintenance request and Brian the maintenance worker came the next day. He was very friendly and made sure everything was done correctly!
Nov 05, 2020
Candice Dew
Stars: 5
Thank you so much for your kind words, Tiffany. We really appreciate you taking the time out to share your expertise.Very personable.
Nov 04, 2020
Sadie Mae
Stars: 5
This property is amazing. Friendly staff. Tiffany always has a warm welcome and makes me feel special any time I need something. I would recommend living here.
Nov 04, 2020
josh spriggs
Stars: 5
Tiffany, Angie, Amanda are great! I would recommend living here. The maintenance staff Francis, Robert, and Brian are awesome as well.
Nov 04, 2020
Pramod Ramnath
Stars: 5
Been here for nearly a year and overall great experience. Although, one thing I've noticed go down in the recent past is heeding maintenance requests. It's clear that they're understaffed, but you may find it harder to get quick responses. Other than that the amenities are great. Peaceful neighborhood. Update (07/07/2020): upgrading to a 5*. They've caught up on maintenance too for the most part. Friendly staff to work with imo. Great rent. Great place to stay. No complaints.
Jul 07, 2020
Cassidy Smith
Stars: 5
Before and after move-in the office staff were great in helping me. Thanks Taylor, Elizabeth, and others that helped me. They really do help.
Jun 19, 2020
Bryam felipe Valencia Pinzon
Stars: 5
May 12, 2020
Seth Whitlow
Stars: 5
Decent place to live
Apr 01, 2020
Shaunesi Griffin
Stars: 4
Oct 18, 2019
Nyemah Jenkins
Stars: 4
Oct 14, 2019
Carter Johnston
Stars: 5
I love all my new friends in the office! Michael, Kiley and Kenita are always so fun and friendly and they really do their best to go above and beyond for us! It's always so busy and seems like they are working so hard but they always make me feel like a friend.
Oct 02, 2019
Taco Roberts
Stars: 5
It's clean, and the common areas have a nice aesthetic. It's what you would expect from a nice apartment complex in the Triangle. The management team members are respectful and competent.
Oct 02, 2019
Daniel W
Stars: 5
Maintenance responds very quickly to requests! The new staff is amazing. It's quite apparent that management truly cares about it's tenants as real people and not just numbers. I saw Kiley (Assistant Manager) last week at Wal*Mart and she ran up to say hello - asking how I was doing. Her smile made my day! Our Manager Michael is very helpful and our Office Professional Kenita is a joy to be around.
Oct 01, 2019
Lauren Snyder
Stars: 5
I love my apartment! Beautiful hard wood floors, plenty of closet space and large bathrooms with garden tubs. Everyone in the office to the maintenance team is so friendly and personable. Michael, Kiley & Kenita host really fun events several times a month :)
Sep 19, 2019
Corban Myers
Stars: 5
After living here over the past two years, I felt that I could write a better review. I was initially concerned when the management kept being changed out, however since Hawthorne took over the staff has been perfect. All of the staff were always friendly and were eager to help with any problems that arose. Richard and the rest of the maintenance crew were always friendly and responded quickly to any issues that I had(water heater/leaking faucet). The management did recently turn over, however this was due to Emily getting promoted and Madison move on; both of whom were probably the best I've ever worked with. However, to anyone moving in I assure you that Michael, Kenita, and Kiley picked up where Emily and Madison left off.
Sep 18, 2019
Joshua Detwiler
Stars: 5
Sep 17, 2019
E S
Stars: 5
I've experienced The Crest at Brier Creek as a resident for over a year now. The location is unbeatable as far as access to shopping, dining, and RDU Airport. The pool is never overcrowded and is smoke-free which is nice. I'd recommend the community if your looking for an apartment in Brier Creek.
Sep 16, 2019
T.J. Hendrix
Stars: 4
Jul 29, 2019
Nivetha Rajan
Stars: 5
Awesome Management. Great Location. Decent apartment units. Happily renewing our lease!
Jul 26, 2019
Kaden Bramall
Stars: 5
Sep 13, 2018
Jason Sallinger
Stars: 5
Sep 13, 2018
Laura Raper
Stars: 5
We have lived here for about 1 1/2 years! We love it! New management has taken over and they are sooooo much better! We love Maddie, Emily, and Jordan! They are so friendly and personable! They are so sweet to our fur babies and even have a puppy treat table! I would and do recommend anyone check out the Crest!
Aug 23, 2018
kecia taylor
Stars: 5
Aug 19, 2018
Shannon Flewelling
Stars: 5
Aug 03, 2018
Melissa Gross
Stars: 5
Great apartment neighborhood. Love the location and price. Also, the staff is always friendly and helpful.
Jul 31, 2018
Alisha Hartley
Stars: 5
Jul 31, 2018
Ashley Laster
Stars: 5
Jul 30, 2018
Jenah Rogers
Stars: 5
This was the last apartment complex in Brier Creek that I visited when making my move and Im glad I didn't take all of the reviews into consideration before making the decision. Literally the only complaint I have is the dishwasher. You just have to load it up and turn it on before you leave or something. That little s.o.b. is loud! Other than that, this place has been great. We were here for 2 years and never once had a reason to complain about anything. The Hawthorne folks are really nice and try extra hard to be accommodating toward the community needs. Great place to live!
Jul 27, 2018
Jadarian Moore
Stars: 5
Jul 10, 2018
Justin Bingham
Stars: 5
Jul 02, 2018
Corey Brown
Stars: 5
Jun 19, 2018
Ashley Newsome
Stars: 5
I've lived here for almost 2 years and they have been great. Outside of normal wear and tear on an apartment, I haven't had any issues. The staff has been extremely helpful and prompt with any issues I have. I've been pleased with my stay at The Crest so far.
Jun 18, 2018
andry tovar
Stars: 5
Jun 18, 2018
Aileen Lopez
Stars: 4
Good community with excellent customer services and ground maintenance.
Jun 18, 2018
Emily Bateman
Stars: 5
Jun 09, 2018
Will Myrick
Stars: 5
This complex really should be rated higher. The staff is always great to work with and the complex is a nice place to live. Work orders are handled quickly and done right the first time. Hawthorn has done a lot to turn this place around.
Jun 04, 2018
T.J. Myrick
Stars: 5
Jun 04, 2018
Latiqua Dortch
Stars: 5
May 17, 2018
J Moore
Stars: 5
May 15, 2018
Alek Walter
Stars: 5
Very nice apartment complex. The grounds are kept clean, and the front office staff are very friendly. The maintenance team does a great job of responding to requests in a timely manner.
May 14, 2018
Keli Rodriguez
Stars: 4
May 06, 2018
Mark Kim
Stars: 5
I loved this place. I had the 1 bedroom and it was very spacious and clean. The leasing office always addressed all of my maintenance requests within a couple of hours even if it was a "low" priority job. This place is close to the airport and you will hear some distant airplanes throughout the day and night. It really isn't as bad as it sounds and I was able to ignore the sound.
May 06, 2018
Richard Clark
Stars: 5
May 03, 2018
Preston Wuich
Stars: 5
May 02, 2018
Bilal Saib
Stars: 5
Great Apartment Complex. Never thought I would like living in an apartment after a big house. My separation caused me to come here and to be honest, not sure if I will ever go back to a house again.
Apr 19, 2018
Joseph Papu
Stars: 4
Management changed some months ago and the overall experience has improved drastically. The new management has done a really good job of improving the package situation, they host great events, and they are very open and honest whenever I have any questions. Overall huge improvement and they are super friendly which is always nice. The apartments are spacious, nice, and affordable. I would, and have, recommended living here to friends!
Mar 30, 2018
hope brady
Stars: 5
Aug 07, 2017
Jordan Sanchez
Stars: 4
After Speaking with the staff - they have outlined their plans for making the crest the best living experience for the community. They have made excellent improvements with the landscape and upgrades throughout the community. But most of all the staff has been great -- the people make the place and the Crest has great people.
Feb 20, 2017
RollRoll Tide
Stars: 5
It's not luxury but you're not paying enough for luxury. I enjoy the Crest and think they do a great job.
Dec 03, 2016
Yuehning Cheng
Stars: 5
I dont understand why people have left bad reviews. For me the experience was great. i love the great price for the great location and what you get for it. Beautiful new apartments. The carpet is new and nothing on the walls. I love the dark wood kitchen cabinets and floors. The appliances were great and i love how it included a nice washer and dryer. My ac did stop one summer hot day but i called the emergency number provided and they came within two hours which gave me time to go shopping or eat dinner. i believe the two bedroom apartments are more worth it because it is like only one or two hundred dollars more than the one bedroom apartments. You can make the other room an office or have a roommate. I am at the very back corner where i can see a peak of the highway behind the forest. I thought it might have been a problem at first but it really never was. It becomes normal and never bothered me except for the first two nights. The airplane noises are usual because i have been living in brier creek already. For the location and price and what you get i think is worth it.
Aug 01, 2016
Shoni F
Stars: 4
With topics in order of importance to me, here's my review after living here for 2 years in a first-floor unit (two adults, no kids). I'm not getting paid for this review, and I don't work for The Crest. - GREAT LOCATION! You're living at Brier Creek, so you're within a few miles of major retail, restaurants, grocery stores an a nice movie theater (which is being renovated as of July 2016 to include new cushier seating). The Crest is kind of separated from the rest of the apartments in the area, just slightly off the beaten path. Even though Walmart is nearby, I've never seen a Walmart cart at our apartment complex (someone out there will appreciate this fact). As of this year, you can still enjoy an unobstructed view of the July 4th Brier Creek fireworks from the south side of the apartment complex. - MODERN STYLING. Dark floors (1st floor only?), open layout, island, dark cabinets, large master bath, high ceilings. After living in a place for two years, you start noticing the little flaws, but it's liveable. The dishwasher is really loud, but the washer and dryer work perfectly. The paint and carpet is cheap, but plenty of natural light (depending on the unit you choose). - PARKING is plentiful, but it depends on what building you select. We requested a corner unit well-beyond the clubhouse/mailboxes, facing the cemetery, but not right next to Hwy 70/Glenwood (road noise). Even at night, no issues finding parking in this area. - WHAT ABOUT THAT CEMETERY? We really liked it. It was quiet, green, and well-maintained. You have a semi-private half-mile trail to take your morning runs or walk your dog. It's better than looking out your window at the back of another building. - SOLID CUSTOMER SERVICE. Every time I needed help, I got it within one business day. Maintenance requests are turned around quickly. - NOISE? Yes, you will hear your upstairs neighbors. This is typical if you're on a lower-level floor, so you just deal with it. We just think of them as our "upstairs family." - VALET TRASH. I'm officially spoiled now. You put it outside your door at night, they take it, and you retrieve your empty container in the morning. I just wish we didn't have to pay extra for this service, but apparently this is becoming more common at apartments. - GATE/SECURITY. True, it is often broken, probably by residents rushing the gate. However, if a "bad" person wants to follow you through a gate, it's going to happen -- broken or not. We don't sweat it. I have never felt unsafe here. It's well-lit. Exercise common caution and awareness. - HVAC. Others complained about broken AC units. In two years, our AC and heat has always worked really well. - PACKAGES. Sometimes USPS/FedEx will deliver right to your door. I've never had any issues with package delivery/retrieval from the office. - POOL. Always crowded in the summer, so we barely used it. I don't get the sense that Crest staff is monitoring residents' activities at the pool. It gets loud sometimes, even though our music devices are supposed to be strictly personal (low volume or earbuds). - KIDS. Interestingly, although they have a dog park, there is no playground onsite. There are several nice parks, trails and community centers within a short drive of The Crest. - PET FRIENDLY. We don't have a dog, but there are many dog owners in this complex. For the most part, the residents curb their dogs. Management puts out notices asking people to report others who don't curb their dogs. I would not run barefoot through the grass. - GYM. It's a free, apartment complex gym. It's basic. There are other gyms in the area if you want to pay for a better fitness experience. - AIRPORT. Pro: perfect for frequent flyers. Con: can be noisy. After a while, for us the sound just melted into the background noise. - FOOD TRUCKS. I hope they keep this going - weekly (or almost weekly) there's a different food truck onsite on a weekday night. Nice! - ICE NEAR GATES IN WINTER. I can't believe someone actually complained about this in another review. It's weather, yall. C'mon!
Jul 20, 2016
Ekko Kin
Stars: 5
not bad!
Aug 15, 2015
Sasha Novozhilov
Stars: 5
Jul 19, 2015
Patrick McMurray
Stars: 5
I just moved in and I love it! the apartment I have is so modern and sophisticated. All of my neighbors seem like decent people of all backgrounds. Every room is spacious in my 1ba/1br apartment. One of my favorite things about the apartment is the 9-foot ceilings, which make the place feel and seem even bigger. The location is amazing. It's kind of feel like I live in a mountain lodge/resort, secluded on the hill. It is located near a cemetery, but the cemetery is so neat clean and organized that it's hard to tell it's a memorial garden. It simply looks like and open park on the hillside with neatly arranged flowers lining the fields. It's actually quite serene looking.
Dec 09, 2014
Karen F
Stars: 5
Beautiful and safe complex! Great location! Love the fact that everything is new. The staff is super friendly and host Pinterest Parties. The valet trash is so nice and has spoiled me. Highly recommended!!
May 28, 2014